Tradition: The tradition in frying turkey
Originating in the South, deep-frying turkey in 100% peanut oil has been a long-standing tradition. The first evidence of frying turkey outdoors was in the early twentieth century. Refined peanut oil has historically been used for deep fat frying of turkey, chicken, fish, French fries and potato chips.
Try this method during the holidays, at a tailgate party, or for your next family gathering. Not only is it fun outdoor activity, it frees up room in the kitchen and oven! Deep-fry a turkey for your next event and you might just find yourself starting a new tradition of your own!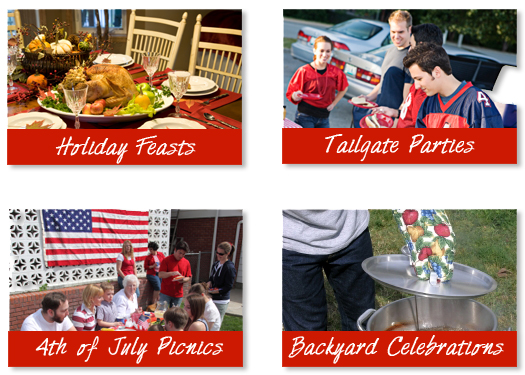 Deep-Fry Equipment
Where to buy:
Club Stores:
Sam's Club, Costco, BJ's
Sporting Good Stores:
Academy Sports, Bass Pro Shop
Online Retailers
Peanut Oil
Where to buy:
Club Stores:
Sam's Club, Costco, BJ's
Home & Retail Outlets:
Lowes, Home Depot, Walmart
Grocery Stores:
ADLI, Publix, Kroger, Ingles